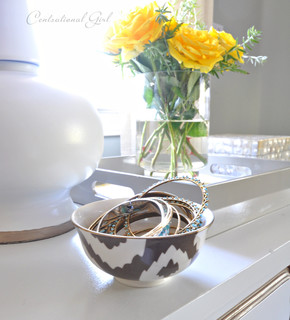 Want to redecorate, but don't have the dough for new stuff? Rather than bringing a bunch of new things into your apartment, why not walk around your space and see what you can reuse in other places?
Houzz.com
helps you see your belongings in a different light.
First, do a walk thorough of your place and look closely for forgotten items. Make a note of anything you need to get fixed. Also, take pictures of everything so you don't have to move things from room to room, you can just hold up a picture. Finally, if you don't like a piece of furniture or decor, try it out in another room and still don't like it, go ahead and paint it or sell it, don't just leave it where it is.
There are lots of ways to reuse what you have, including using bowls, creamers, cake plates, serving trays and more from your kitchen to organize things like office supplies, makeup, jewelry, etc.
You can also transform an old twin bed into an elegant daybed with a classy coverlet and a bunch of throw pillows. Do you have beautiful dishes just languishing away in a cupboard? Hang them on the wall where you can see them everyday!
A desk or console table behind the couch is a great place to display objects or sort mail. If you are expecting a baby, rather than wasting money on a changing table that will only be used for short period of time, use a dresser which will double as clothes storage and can be used long after the diapers are packed away.
Do you have a bunch of mismatched accessories? Paint them one color and then display them together to turn them into a collection.
Tired of your coffee table? Use it as a display space against the wall and look for something unconventional around your house, like a pair of stools or a steamer trunk, to take its place.
There are even more suggestions over at Houzz, so take a look at how you can reinvent your space and if you're still bored with the way your
apartment
looks, find a new one by giving
San Marcos Apartment Experts
a call at 512-805-0123.